Four Steps to Find the Best Catering Company in Auckland
There are hundreds of catering companies in Auckland. That makes finding the perfect one for your wedding, corporate event or special occasion pretty difficult. Here are four steps you can take to help you find the best catering company in Auckland:
Decide what you want from your catering company
Before researching catering companies in Auckland for your event, there are three vital decisions that need to be made:
1. How much do you have to spend?

No matter what event you are planning, there will be some money constraints. It's important that you know what the event budget is because that will impact every other decision about your catering including, the number of guests, the menu, and the style or format. Set a budget for your event, then calculate what percentage of that will be spent on the catering.
2. Who's coming?

You don't need to know the name of every person coming. You don't even need to know the exact number of guests, but you do need an approximate headcount because a caterer who can manage a meal for 25 people may not be so comfortable about an event with 100+. Try to calculate your attendance number to within about 10 percent.
3. What style of service do you want?
The format of your event will impact your choice of catering company. The decision to be made is whether you want finger food, buffet-style food, or a formal sit-down meal. While many catering companies are able to offer a wide range of menus featuring any style of food, others will specialise. To help you make a decision, read Buffet Catering or a Sit-Down Menu – Which Should you Choose?
There is another alternative also. Some catering companies will allow you to self-cater – that is, they will drop the food off in containers that retain heat (or keep cold food cool) for you to arrange and serve yourself. This means you can save money by not having to pay for servers, and there is the added bonus of not having to stick to a specific meal time.
Once these three decisions are made, you will find a number of catering companies in Auckland can be crossed off your list. It may be that they don't serve the type of food you are wanting or it may be that they cannot handle the size of event you are planning.
You are now ready to start identifying those event caterers that can handle your event as you hunt down the best catering company in Auckland.
Create a shortlist of catering companies in Auckland
You can now work through websites or recommended caterers to determine which have what is needed to handle your event. As you do this, assess them against the following factors:
Availability

We put this factor first because the simple reality is, if a catering company isn't available on the date of your event, there's no point doing any further research into their experience or expertise – cross them off your list and move on.
Experience and expertise
Another catering reality is that there are many people who claim to have catering experience but may not have the expertise to provide the quality of service you want for your event. You want a caterer with experience and expertise, and that only comes from regular event catering. Our advice is, if a company isn't catering for regular events, cross them off your list. This applies even if the potential caterer is a friend or has been referred by a friend. You want your event to be a success so don't place it in the hands of a novice.
Authenticity
By this we mean, is the company a licensed business with the necessary processes and procedures to ensure a successful event? Do they have the proper insurance? Are their food hygiene practices up to scratch and do they have the health and safety certificates to prove it? Many catering businesses turn out to be someone working out of their home kitchen. You want a catering company that ensures quality and food safety.
Great food
The real test of the suitability of a catering company is that their food is of a high standard. Before engaging a caterer, perform your own taste test. Most good catering companies in Auckland will schedule some sort of tasting for you. Sometimes this can be achieved by attending an event the company is catering for or, in some cases, a private tasting may be arranged.
Testimonials
Checking out each company's customer reviews and testimonials may also help you cull a few names from your list. The best catering company in Auckland will have a number of positive testimonials on their website that carry the names of those providing the comments. Check the internet for other reviews also.
By assessing these five factors, you will be able to eliminate a number of potential caterers. You will also be able to create a shortlist of which companies you want to talk to in greater depth. Usually, your shortlist would be just three or four companies. Any more than this and it can become a rather drawn-out process.
Interview your shortlisted catering companies
"Interview" sounds rather formal, but that's what you are doing. The catering company is providing a service that you will be paying for so you need to ensure you select the best one.
Catering companies in Auckland are used to being quizzed about their food and service. As long as it's done politely, they will answer honestly and you will get a good idea about whether you can work with that potential caterer.
Arrange appointments with each of the companies on your shortlist and prepare a list of standard questions or topics to cover with each one. That way, you can accurately compare them.
For a guide on what to ask each caterer, use the questions from our article, Seven Things to Ask Your Caterer About Your Wedding Catering Before the Big Day. This article may be about weddings but the same principles apply to any catered event.
Choose a catering company
Once you have spoken to each Auckland catering company on your shortlist, it's time to select one. You now have all the information required to make an informed decision – so, go for it!
At Cook and Butler Catering, we have experience in all types of catering and corporate events and have sample menus that feature all types of food from light finger food to lavish, five-star elegance. If you need catering help organising your next corporate function, contact us.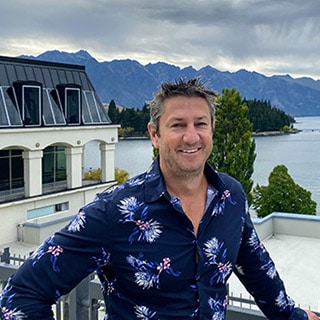 Nick, a fully qualified chef, spent six years as Executive Chef for one of New Zealand's leading hospitality event management companies. In this role, he found himself catering for a variety of VIP functions including America's Cup farewell dinner and The Halberg Awards and overseeing private dinner parties for some of New Zealand's best-known celebrities.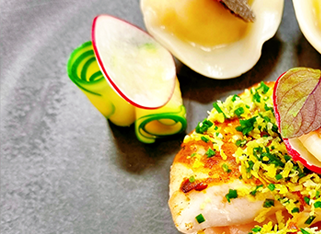 Innovative, stylish, sophisticated and seamless catering will set your special function apart. We offer a complete array of captivating cuisine created from some of New Zealand's finest produce.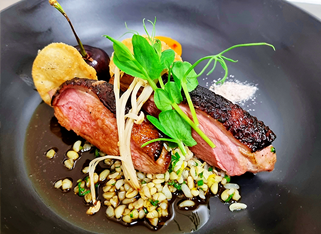 Delicious menus, exquisite presentation, great prices – create a wedding reception you and your guests will remember for all the right reasons. Choose from a large variety of options on our travelling finger food, buffet, or at your table menu. Whatever your style, we have it covered.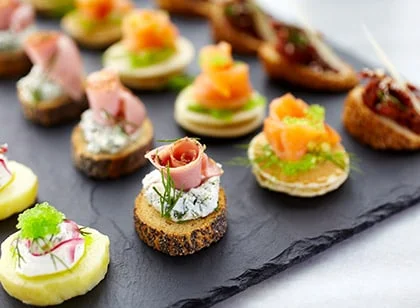 Whether it's a light meal or a delightful snack between meals, we provide an excellent selection of well-priced, high quality, easy to eat canapés and finger foods.