Event Catering Services on a Budget – 4 Tips from the Experts
No matter what type of event you are planning, you will have a budget that you need to stick to. That can be difficult, especially if you have a large guest list and want to provide food. It's not impossible though. Whether you are planning a corporate event, a wedding, or some other special occasion, there are ways to save money on catering services and make that budget stretch a little further.
As a leading Auckland catering company, we want to share four tips that can save you money on event catering and still enable the stylish event you are hoping for.
Four insider tips on making your catering services budget go further
Here are four catering tips to help keep your catering event budget under control:
1. Schedule your event catering outside peak days and times
The most popular days for event catering tend to be at the weekend, Fridays, Saturdays and Sundays. This is especially so for wedding receptions. It is also true that weekends for catering companies are usually booked out well in advance, especially during the peak spring/summer period.
By booking in outside the peak period and outside the peak days, it is possible your caterer will provide a less expensive cost per head.
It is also worthwhile thinking about the time of day. If you avoid the main meal times, guests are less likely to expect a full meal and you can go for less expensive menu options.
For instance, if you go for a morning or afternoon tea time event guests will tend to be less hungry and will usually come with an expectation of catering services that feature finger foods or grazing platters rather than a full meal.
Most caterers will have a catering menu that includes canapes, shared platters or delicious finger food.
2. Be creative with your event catering menu
It's obvious to anyone who shops for food that some food options are more expensive to buy than others. It's the same for caterers when they purchase food for your event.
When planning your event catering, think about less expensive food options. Tell your caterer that you are working to a set budget. Most catering services will be open to a discussion about what food choices can save you money.
Many caterers will even be open to preparing a food theme for your event. For example, you might suggest a menu with an Italian theme because pasta-based dishes will usually cost less than meat-based dishes. Add a couple of salads, and you have a delicious meal that will send your guests away happy.
And, here's a tip for a wedding reception – rather than paying for expensive puddings, why no serve wedding cake for dessert?
3. Move away from plated food – choose a buffet
It's one of the most common questions caterers get asked, "Should we go for buffet catering services or a sit-down menu?"
There is no doubt that if you want a formal dinner, a sit-down menu with plated food options is the way to go. However, the cost of the time taken making each dish look presentable and the extra wait-staff required to serve guests can add considerably to the expense. For this reason, when you're wanting to cater to a budget, a buffet is usually the best way to go.
Remember, though, a buffet doesn't have to be boring or use basic dishes. Choosing a buffet menu can mean a wider variety of foods for guests to choose from and it enables them to choose their favourite foods from the dishes provided.
The wider choice of foods can also mean you can design the style of food around the event. For instance, you might choose to have traditional food choices, you may go for a BBQ selection or finger foods, or you may choose to focus on one food type, say, seafood.
While a waiter will often be on hand to help serve food, particularly when there is meat to be carved, this is not always necessary as our final tip for event catering on a budget illustrates.
4. Get the food delivered and self-cater
Here's a great way to save money on your caterer. Some catering companies will allow you to self-cater – that is, they will drop the food off in containers that retain heat (or keep cold food cool) for you to arrange and serve yourself. This means you can save money by not having to pay for servers, and there is the added bonus of not having to stick to a specific meal time.
There they are, four insider tips on making your catering services budget go further at your next catered event. Now, a final bonus tip – talk to your caterer! Your caterer is a catering services expert. They will have suggestions for food choices to keep you within budget. You might be surprised at the delicious (and relatively inexpensive) menu that can be provided for your next event.
The best way to find out about affordable catering services for your next function or special event is to contact Cook and Butler – Auckland's premier catering service.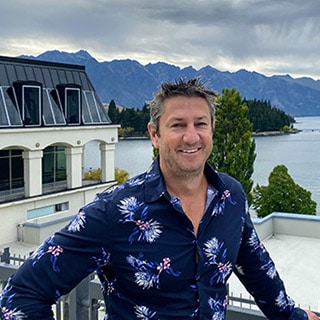 Nick, a fully qualified chef, spent six years as Executive Chef for one of New Zealand's leading hospitality event management companies. In this role, he found himself catering for a variety of VIP functions including America's Cup farewell dinner and The Halberg Awards and overseeing private dinner parties for some of New Zealand's best-known celebrities.
Whether it's a morning tea, after five drinks or a business lunch, Cook & Butler can design a platter to suit your every occasion.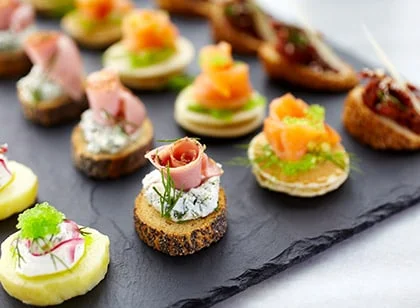 Looking for a light meal or a delightful snack between meals? We provide an excellent selection of well-priced, high quality, easy to eat canapés and finger foods.