Mouth-watering, healthy and affordable; lunch and catering packs made to order from our extensive online menu and delivered right to your door.
Please note: these are provided in biodegradable lunch boxes and not on platters. If you would prefer platters, please see our Corporate Working Lunch – starting from $13.50 + GST
Lunch and Catering Packs Menu
Selection of 3 items $17.50 | Selection of 4 items $20.50 | Selection of 5 items $22.50
All prices are per person excluding GST
SAVORY
Pies & Pastries
Petit (Mini) Bacon & Egg
Petit (Mini) Thai Chicken
Petit (Mini) Mince & Cheddar
Petit (Mini) Beef Mince and aged Airedale Pies
Petit (Mini) Chicken & Truffle
Petit (Mini) Bacon and Egg
Gourmet Sausage Rolls, Moroccan Spice + Sesame Seeds
Tartlets & Quiches
Smoked Salmon & Crème Fraiche Tartlets
Asparagus, Havarti and Olive Tartlets
Roast Tomato and Chilli Tart, Basil Pesto
Roast Vegetable + Bacon Quiches w Danish Feta
Miniature Carved Ham and Caramelised Onion Quiches
Miniature Pancetta, Feta + Baby Spinach Quiches
Savory Scones & Muffins
3 Cheese Savoury Scones + Crispy Bacon
Cottage Cheese & Spring Onion Scones
Three Cheese and Herb Scones
Basil Scones, Roast Beef + Hummus
Rosemary, Cheddar and Bacon Muffins
Filos
Spinach and Goat's Cheese Filos w Smoked Paprika
Salmon and Cream Cheese Filos w Chilli Curry Butter
Smoked Chicken and Cream Cheese Filo, homemade Thai Chilli
Roast Pumpkin + Fresh Mozzarella Filo Parcels
Mini Pizzas
Margherita Pizzas, fresh Tomato + Basil
New York Pizza w Salami & Anchovy
Hawaiian Pizza w Mango
Mini Beef Lasagne, Tomato + Parmesan
Petit Spring Lamb Burgers, Tomato Relish + Aioli
Chilli + Lime Chicken Satays, Tomato Salsa
Beef Satay w Rendang Curry Sauce
Spicy Lamb Koftas, Cucumber + Mint Dip
Honey + Sesame Chicken Nibbles, Coriander Salad
BREADS & SANDWICHES
NOODLE BOX SALADS
Spicy Sausage + Roast Garlic Orzo Salad
Moroccan King Prawn Couscous Salad
Thai Beef Udon Salad, Mung Beans + Coriander
Pesto Chicken Salad, Olives + Spinach
Creamy Chicken Penne Pasta Salad
Coronation Chicken, Walnuts + Curry Mayo
Roast Potato Salad, Bacon, Spicy Sausage + Green Beans
Fried Rice Salad, Crispy Shallots, Ginger + Chilli Chicken
Classic Greek Salad, Feta + Lemon Dressing
SWEETS
Buttermilk + Custard Muffins with Blueberries, Banana Chocolate, Blackberry & Lemon
Slices
Chocolate Caramel
Granny Smith Apple Crumble
Coconut + Ginger
Sticky Toffee Caramel
Tangy Lemon Sugar Syrup Cake
Chocolate + Walnut Brownie
Banana Loaf
Selection of Petit Cupcakes
Tartlets
Roast Pecan and Bourbon
Poached Rhubarb Crumble
Chocolate Mocha Silk
Black Doris Plum Frangipane
Citrus Scones, Conserves
Date & Apple Scones w Crème Fraiche
Blueberry + Lemon Scones
Selection of House Baked Cookies, Chocolate Chip, Afghans, Shortbread, Anzac
BEVERAGES
Please contact us to discuss your specific requirements and we'll take care of the rest.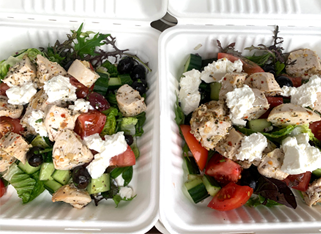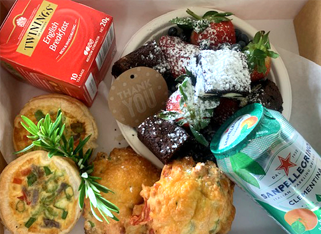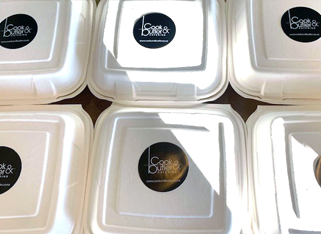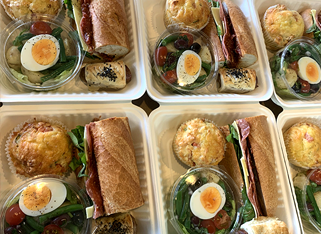 A delivery fee applies depending on location.
Payment for orders is due once numbers are confirmed and two days before the event date.
All prices exclude GST and are subject to change.