Where are the best places for a funeral reception in Auckland?
For most of us, one of the first things we think of when organising a funeral or memorial service is, where are we going to hold it? There are a number of possibilities but most of them hinge on the answers to four questions:
What type or style of funeral service and reception are we having?
Everyone is different. Some people are incredibly laid back and the thought of their service and reception being in a church or even in a local community hall seems to go against every part of their character. Other people are more formal, however, and you know they would appreciate something more ceremonial.
The reality is, a service can range from a very simple farewell over afternoon tea with a few family members, to a grand celebration of life held over a number of days. So, the answer to the question "Where are the best places for funeral receptions in Auckland?" comes down to the style of service you are wanting.
While many people still opt for a church funeral, or one held at a crematorium or funeral home, there is no reason why these should be your only options.
More frequently people are holding informal funeral services in residential homes or local parks or beaches.
The important thing is that you remember what the service and reception are all about. They are a way to celebrate the life of your loved one and to come together as family and friends. Because having family around you is the best way to process your feelings and feel supported, it makes sense to plan a day that reflects the character of the person being remembered.
Helpful Tip:
As experienced funeral caterers, we have seen the value of planning a day and a venue that reflects the character of the person being remembered. For example, we have catered for many funerals at Titirangi Golf Club in Auckland. Not just for golfers either – it's a spacious venue with a great view and relaxed atmosphere.
How many people will come?
This is a major determining factor when deciding where to hold a funeral. It's also one of the most difficult factors to predict. We all imagine that no one will come to our funeral service or wake, but that's not true. Your loved one probably has a wider network of friends than you'd ever imagine and, there will be friends of yours who will come to support you.
As you think about a location for your loved one's funeral or memorial service, think of how many people are likely to attend and keep that figure in mind as you gauge the seating capacity of each venue you consider.
The simple truth is, some of the best places for a funeral reception in Auckland will not be feasible for large groups. It's not unusual for two or three hundred people to attend the funeral of a younger person. This means most residential homes will be out of the question. So will many parks and outdoor areas simply because of issues relating to sound projection.
Helpful Tip:
At Cook and Butler, we have provided funeral catering in Auckland at all sorts of venues, from churches, boating or sport clubs, community centres, residential homes and a variety of outdoor settings. In almost every case, once a number of attendees has been decided on, it becomes easier to think clearly about the venue.
How accessible does the venue need to be?
This is an important consideration because not all people are fully mobile, and older folk especially can find it difficult to walk long distances or to walk on rough or undulating surfaces.
While this is not an issue with most churches and halls, if you decide on an outdoor venue, or a venue that is not close to a parking area, you should think about who is coming and whether they will be able to handle the walk to wherever the service is to be held.
Even for an indoor service, if you know you have people attending who have mobility issues, make sure you check the accessibility of the location beforehand.
Helpful Tip:
If the venue is not visible from the parking area, it pays to ask a couple of friends to act as parking attendants who can show the mourners the way to the venue or service area.
What sort of funeral food will we serve?
Believe it or not, the type of food you serve at your loved one's funeral will, in part, affect where you choose to hold the service and reception.
If food needs to be prepared on site or kept hot for a longer period of time, you will probably need a location with kitchen facilities. If you are wanting a sit-down style of meal, then you will need somewhere where tables are able to be set up.
These days most funerals arrangements call for a finger-food styled funeral menu. This makes things easier (and more convenient for guests who are often standing and chatting to others at a reception) but there will still need to be tables or some surface to layout the food.
You will also need to decide if you are wanting your funeral caterer to set up, serve the food to guests, and tidy up afterwards. Most Auckland funeral caterers will provide such a service. In the same way, most funeral caterers will deliver the food to you, or you can pick it up from them.
Helpful Tip:
You can design your own funeral food menu by choosing a selection from the Cook and Butler morning and afternoon tea menus.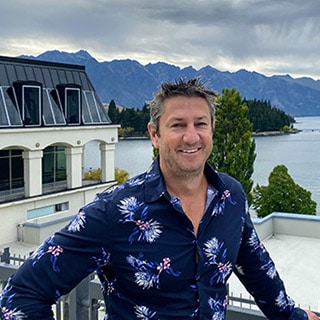 Nick, a fully qualified chef, spent six years as Executive Chef for one of New Zealand's leading hospitality event management companies. In this role, he found himself catering for a variety of VIP functions including America's Cup farewell dinner and The Halberg Awards and overseeing private dinner parties for some of New Zealand's best-known celebrities.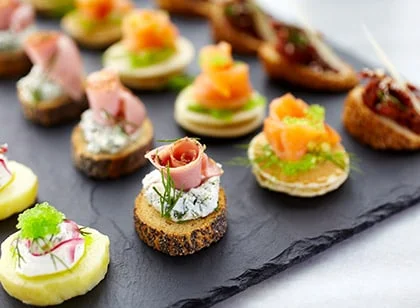 Finder food is easy to eat and low maintenance. We provide an excellent selection of well-priced, high-quality, easy-to-eat canapés and finger foods.