COVID-19 and the restrictions surrounding it have been a challenge for us all. Now, as restrictions ease and more businesses are bringing their staff and clients back to the workplace, your business will be looking for ways to reconnect.
Now that we are back at the workplace, food is a great way to encourage team culture and to enable that reconnection. The challenge is to find corporate lunch catering services that are delicious and also both safe and within current New Zealand COVID regulations.
What do you serve at a lunch meeting?
When it comes to deciding how to organise a work lunch, there are two things to consider. What type of food is best for corporate lunches? And, what is the best way to serve food in this COVID environment?
When it comes to the type of food, think about providing fresh, healthy food that will energise your staff and lead to increased productivity as opposed to some of the typical heavy catered food that can lead to fatigue and a lethargic workforce.
What types of food should I serve at a work lunch?
When searching for corporate lunch catering services in Auckland, you want an extensive range of fresh, light and easy-to-handle food options. The key is to be imaginative and try to make the menu something that will cater to a wide variety of tastes. You might think of including food such as:
Savoury food items – savoury items such as mini-pies, quiches, pizza or savoury sausage rolls are good options for a catered lunchbox because they are warm, filling and appetizing.
Sandwiches and fancy breads – Assorted sandwiches can range from the traditional ham and cheese to gourmet sandwiches with imaginative fillings on ciabatta or Turkish pide. Whether you choose bacon and egg baps or roast vegetables and Danish feta, serving sandwiches at a lunch meeting offers you the chance to get creative while offering food that is both delicious and nutritious.
Noodle box salads – noodle boxes are a contemporary and popular lunchtime choice for those wanting something fresh and full of flavour to serve at a lunch meeting. Options are as varied as your imagination and can range from Asian-inspired Thai Beef Udon Salad to Moroccan King Prawn Couscous or Spicy Sausage with Roast Garlic Orzo.
Large fresh salads – a good salad is not only nutritious; it's refreshing and flavoursome. The texture and attractive presentation of a fresh salad make it another popular lunchbox choice. Salads are the go-to choice if you are catering for vegan, vegetarian and gluten-free diets at an office lunch. Plant-based salads can be just as filling and full of texture and variety as a salad that includes meat or cheese. Ask your caterer what they recommend serving at an inclusive lunch meeting.
Muffins, scones, tartlets and slices – many people have a sweet tooth and love to end their lunch with something from the dessert menu. Alternatively, you may be thinking of a morning or afternoon tea team meeting where scones or muffins are the perfect food choice.
Of course, you will be able to pick and choose what you put in your workplace lunchboxes. The key is to make the contents varied and delicious. As a general rule of thumb, think about providing something savoury, a salad, something sweet and a piece of fruit.
Remember also that the best caterers will invite you to call them to discuss specific food or dietary requirements for your next office lunch to ensure it is a success.
What is easy to cater while following COVID regulations?
When considering the best way to serve a corporate lunch in this COVID environment, there are two primary options, corporate lunch boxes or shared lunch platters. There are positives to both these lunch office catering options.
Corporate Lunch Box Catering
During and after COVID, boxed lunches have become the preferred office catering solution for many businesses because:
It limits exposure of food to possible contamination. Not only is the food prepared in the sanitised environment of our professional kitchen, but it also remains sealed until opened at your workplace.
Social distancing is easy to maintain with team members quickly picking up a lunchbox rather than queuing at buffet-style tables.
Lunchboxes can be personalised and labelled to ensure food preferences and allergies are catered for.
Your staff and clients can feel safer knowing their food is safely boxed.
Boxed lunches aren't what they used to be. The best caterers today work hard to create mouth-watering, healthy and affordable lunch and catering packs made to order from extensive online menus. Select a caterer who offers variety, has thorough safety protocols and will deliver to your door.
Shared Business Lunch Catering Platters
Some businesses still prefer lunch platters because they look great when laid out on a table and a shared lunch can add to your team's sense of coming together. Most catering companies continue to provide lunch platters but it's important that workplaces adhere to COVID safety protocols to reduce the chance of infection.
For the sake of COVID safety, it's recommended that individually wrapped cutlery be used, masks are worn when collecting food, social distancing be maintained, and hand sanitiser is available on each table.
More specific regulations relating to the regulations as they affect New Zealand businesses can be found at the end of this article.
Serving Lunch at Work in the Red Traffic Light Setting
Currently, within New Zealand workplaces, there are COVID restrictions that apply irrespective of whether food is being served or not. At the red light setting, these include:
A maximum of 100 people may gather in one place provided they are all vaccinated and vaccine passports are checked. If people are not vaccinated, a maximum of 25 is allowed.
Social distancing of 1-metre spacing should be encouraged. The value of spacing is enhanced if you meet outside rather than in the work lunchroom or café.
The wearing of approved masks is encouraged when not eating.
Hand hygiene and regular sanitising are encouraged also.
How can I keep my staff and clients safe at a lunch meeting?
When placing a food order for your business lunch, there are a number of things you can do to ensure people are safe and feel safe:
Place a single food order for the entire office, i.e., use just one catering company. This will avoid exposure to multiple kitchens and delivery drivers.
Shared lunch platters are fine if proper precautions are taken. However, individually boxed lunches add an extra layer of safety for your staff.
Have hand sanitiser available on every table or as people enter the food area.
Have social distancing floor markers in the food serving/collection area.
Order food from a reputable caterer so that you can be certain all food has been prepared under strict health and safety guidelines.
Cook and Butler prepare and deliver corporate box lunches and corporate catering platters to businesses throughout Auckland. Click here to view our mouth-watering, healthy and affordable lunch menus.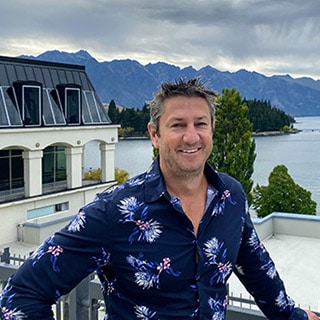 Nick, a fully qualified chef, spent six years as Executive Chef for one of New Zealand's leading hospitality event management companies. In this role, he found himself catering for a variety of VIP functions including America's Cup farewell dinner and The Halberg Awards and overseeing private dinner parties for some of New Zealand's best-known celebrities.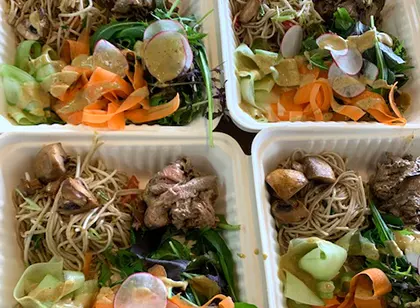 Cook & Butler provide superb, freshly prepared catered boxed lunches in a wide variety of delicious options for you to serve at your next work lunch.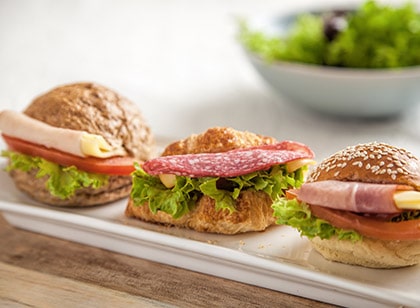 Whether it's a morning tea, after five drinks or a business lunch, Cook & Butler can design a platter to suit your every occasion.